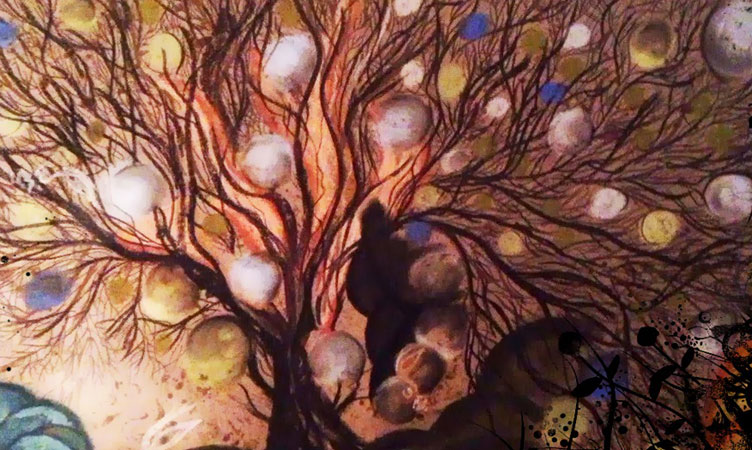 The playground that once echoed with sounds of mirth,
Is now a smoldering pyre.
A memory lost,
and no children play,
as innocence feeds this fire.
A gentle sobbing could be heard in the far corner of the hut. Her heart was veiled by the infinite shadows of sorrow- an abyss where everything disappeared except the silence. She renounced the title of 'Mother'. What do you call a woman who has lost her child? Widows, orphans, – they all have names. But what about a mother who has no one to call her….Ma? No one noticed this invisible rain of infinite sorrow- no one cared, no one understood, no one listened.
The small desert village was once a peaceful and simple place before the wars had begun. Children blissfully played with their glass marbles on the dusty pavements until their mothers summoned them inside for supper. The cherubic laughter, the faces beaming with hope and excitement, the innocent pranks, the twinkling eyes. Childhood is a birthright. No one has the right to take it away. The child is a precious flower that spreads the scent of joy selflessly. A child is the essence of life.
When you look into the eyes of the child- you can easily drown into the depths of humanity. We can learn much from a child- they are the wise folk wearing little cloaks of humility. These precious ones are the peacemakers of our future.
The mother looked on at her happy brood. She knew in her heart, that even though she could never learn to read or write, her little ones would teach her. She had always wanted to spell her name; she had such a beautiful name, if only she could spell it.
'My little girl will teach me, yes, I know she will.'
The mother made a living by scrubbing pots and pans for the tribal leaders. She would wake up every morning, make bread for her family, get water from the village well, and return with a smile on her face. She was content and happy in these daily chores, because she knew the faces of her children will erase all mortal pain and suffering in an instant.
They were also healers- they could heal her with one smile.
She would dress her children for school. Every little uniform perfectly ironed and washed. The ponytails were tied with matching ribbons, and the shoes shone brilliantly, thanks to the English Boot Polish she purchased from the Bazaar. Faces nice and clean, teeth, ivory white and every hair in place. People talk of religion, of duty, of ritual, but to her, this was her religion. Getting her little ones ready for school was an essential rite of passage, one she never missed. Her heart beat fast, she was so proud of these wise little folk, all standing in line and marching towards a bright future. Nothing gave her more joy than seeing them go to school.
Her hands were rough,wrinkled and swollen in places. The constant scrubbing had aged her hands beyond recognition. She did not care. She lulled an ancient tune as her hands scrubbed away. Actually the work gave her immense satisfaction and nothing could stop her from going to work. So she never complained, she never wept, she only thanked God for giving her hands so she could scrub. She worshipped the pots. For every dirty pot she scrubbed, meant one more book for her child. Smiling inwardly, she resumed her tasks, humming her folk song of peace and love. Time went by fast. With a hunched back and sweat lining her forehead, she looked earnestly at the sky- it was time to go home.Her children will be coming back from school. She placed the last squeaky clean pot on the floor. It was time to prepare a hearty meal for her children.She'd better hurry home quick.
"Ma….look at this. Look what I made for you!"
She looked at her little fairy, her angel, her life. There, in her tiny hands was a paper with a crayon drawing on it. The mother peered closely, and was awed at what she saw. It was a drawing of planet earth. Around the planet were purple rings and hearts. There were children of different kinds and colors, all holding hands, all so peaceful. Something was scribed in the center of the drawing. The mother could not read it- she did not know how.
"My sweet, what is that letter in the center?"
"Will you teach me?"
"Oh Ma…of course I will," giggled the child.
"Ok precious one, I will learn from you."
The little girl sensed her mother's joy, yet detected the anguish she felt for not being able to read.
"I will make a drawing for you every day. Soon you will read better than my teacher!" The little girl gushed as she jubilantly twirled around her mother like a dainty butterfly.
"Alright my love, I have complete faith in you and your drawings."
An earthen fireplace roared with friendly warmth in the main room of the hut, a straw mat was laid out on the floor and the children and their mother sat down to supper.
Their father had died in the war; a drone attack. He was one of many who had perished without a trace. These mechanical soldiers spared no one- they had a metal heart, were soulless, and merciless.
It was only them now. Yet they smiled, ate their humble meal, thanked God for all the bounty and hugged their Ma every chance they got.
After tucking them in andsending them into the land of dreams by singing alullaby, she got up and went to the main room and picked up the drawing.She looked at it intently; she could swear it almost glistened. There was an aura about it that defied explanation. It was a representation of the world through the eyes of a child. It was pure magic.
Proud of her girl's achievement, she hung the masterpiece on the main wall of her hut. It was miracle, her daughter was an artist. A miracle indeed. Never in her life had she seen something that beautiful or inspiring. Only if she knew what the letters meant- it would make the experience even more magical.
'My daughter will teach me.'
It was a wet afternoon. For some inexplicable reason the crows keep crowing until her eardrums almost burst. It was first time in all these years that she did not feel like scrubbing- in fact, it was the only time.
"If only these crows would stop!"
Evening swept across the skies like an angry bull. She felt weak and wanted to run home. For the first time in her life, she left the pots. It was strange. She felt very cold. All she knew was that she wanted to run home to her children- fast.
She patiently waited for her children. She looked at the sky, the sun was orange red, and the horizon was melting into the stars- giving off a bloodied hue.
Nothing but pale silence awaited her. No laughter. No chattering. No smiling faces. Just those crows- and their deafening foreboding cawing emanating from the darkening silhouette of the trees.
She took her stick and hurriedly made her way towards the village center.
They loved to skip after school. She will go fetch them.
'Naughty angels, worrying your Ma like that.'
Far in the distance she saw a thick plume of smoke rising. She felt that nauseating weakness again. Her limbs felt soft, like she had no bones left in her body.
She started running towards the smoke, nothing else mattered now.
Something was very wrong.
She ran blindly, she ran wildly, only instincts guided her.
There was loud thud and she tumbled down onto the wet muddy ground.
As she struggled to get up, she felt something underneath her body.
It was a tiny hand.
In the charred hand was a crumpled burnt piece of paper with a drawing on it.
The woman recognized it instantly.
It was then that the abyss opened up. It was then that the infinite shadows of sorrow veiled her countenance.
What do you call a mother who has lost her child?
'The Tiny Hand'- Book of Short Stories
Dedicated to the children who have lost their lives to senseless wars and acts of terror.
Author of Soul Fire – A Mystical Journey through Poetry