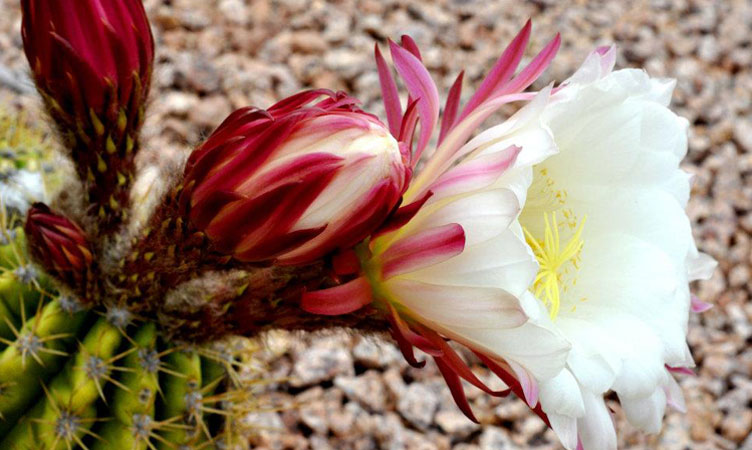 When my husband and I moved into our house in central Arizona, a regal saguaro cactus grew in the front yard. From the beginning, we were proud of the elegance it lent to our landscape. Hardly a day went by that we didn't admire the plant's nicely swollen belly, its graceful spire, and tough as nails spines, highly effective armor against its predators. It was a robust, healthy looking specimen, over eight feet tall.
My husband and I were new to Arizona, knew next to nothing about the area's indigenous plants, let alone the saguaro cactus. But over the next few years, I acquired some knowledge about Arizona cacti, and the saguaro in particular. For one thing, I learned that saguaros are protected by the Arizona Native Plant Law, which prohibits the damage or removal of any part of the plant from the environment without a permit.
The Saguaro is native to the Sonoran Desert of southeastern California, southern Arizona and adjoining northwestern Mexico. It is the largest cactus in the world. Its skin is smooth and waxy, but the trunk and stems have sharp, tough 2-inch spines protruding from their ribs. The average growth rate for a saguaro is only one inch per year, but it may attain great height, anywhere from 15 to 50 feet. When watered, the plant's outer pulp expands, thus increasing the diameter of the stem and allowing for water storage. Because of this efficient hydration system, these cacti may weigh up to a ton.
Their capacity to store great amounts of water enables saguaros to flower every year, regardless of rainfall. In full bloom, their flowers display white petals about 3 inches in diameter, clustered around a tube about 4 inches in height. In the center of the petals, yellow stamens form a protective circle around the entrance to the tube, which contains sweet nectar at the bottom. This enticing nectar, combined with the color of the flower, invites birds, bats and insects to sip the syrup and pollinate the flower simultaneously. The saguaro can only be fertilized by cross-pollination (pollen from a different cactus).
The more I learned about saguaros, the more impressed I became with their attributes. I began to feel blessed having such a fine specimen guarding my house. It never failed to evoke my admiration as I drove up the driveway. I often forgot that it was merely a tall, decorative plant, for it seemed to be a creature in its own right. I thought this strange until I learned that the Tohono O'odham Native American Southwest Desert People consider the saguaro a sacred plant. To them, it is not just a plant, but also another form of humanity. It figures in their creation stories and even today, the Tohono O'odham people continue to harvest its fruits. My only disappointment with my resident saguaro was that it had not yet flowered.
One early Saturday morning, I opened the front room blinds and saw my beautiful saguaro lying flat on the ground. For a moment, shock overwhelmed me. I could only stare at the spectacle in disbelief. The plant's roots had torn loose from the soil. Its top was jammed up against one wall of the garage. What had happened?
I ran outside, and examined it closely. It had not toppled on its own. Deep vertical gashes ran down the middle of its body. Midway between the top and bottom of its stem, there were two yawning gouges. These puncture wounds indicated that someone had used a metal rod or something similar to push it over. I was furious. What savage soul would do such a thing? Then I noticed that the large, red rock next to it had also been knocked over. I glanced toward the street and saw what was left of our mailbox, now smashed to smithereens. A shiver of fear ran through me. It was clear that this was an act of vandalism, maybe even a personal attack. When my husband saw the damage, he called the police. But as the officer dutifully filled out a report, he informed us that it wasn't likely the perpetrators would be caught. "Probably the work of some drunken kids," he said.
His words did not reassure us. Next, my husband called our home insurance company to see if they would cover the cost of replacing our saguaro. The insurance agent told him they would pay up to $500.00 for landscape damage. After filing our claim, my husband called several local nurseries for an estimate on a replacement. A saguaro of the same age and height as ours would cost about $1,300.00. We could not afford that. Then I contacted a friend who I knew was very knowledgeable about desert flora and fauna. While I hadn't expected much more than her sympathetic ear, she did offer more hopeful information than anyone else I'd talked to so far.
To my surprise, my friend informed me that my cactus might be saved. Until speaking with her, I'd thought it was finished. But my friend knew the owner of a local cactus nursery who had years of experience working with desert plants. He might be able to help.
Of course, I contacted this man. That very afternoon, he came to our house and assessed the damage. He assured my husband and me that our saguaro might be saved if it were replanted. Of course, he couldn't guarantee its survival, but he thought it was worth a try. He explained the transplantation process. First, the cactus needed to be out of the ground for a few days, preferably a week. Exposure to the air would allow the freshly cut roots to form a protective dry skin. After that, he would hire a small crew to replant it. The cost seemed minimal, especially as compared to purchasing another saguaro.
My husband and I agreed to his proposal. An hour later, one of the nursery's employees came over to prepare the plant. He informed us that while the roots were healing over, the body must not be allowed to dehydrate. To prevent this, he sprayed the cactus barrel with water and then covered the whole trunk with a huge tarpaulin. Promising to be back in a week, he left us to contemplate our saguaro's misfortune.
A week later, three men showed up to relocate the cactus. I'd chosen a lovely, sunny spot in the backyard where the soil was less rocky than other parts of the yard. First, the men dug a hole, which didn't seem deep enough to me. However, I was told that its depth was sufficient, as the saguaro's root system is very shallow, especially for such a tall, heavy plant.
Now it was time to move the victim. Before attempting this, each of the men donned thick, leathery gloves. Working together, they managed to lift the saguaro's heavy body just high enough to get a leather hoist under it. Slowly and carefully, they slipped the hoist around the trunk, and then raised the cactus into a large wheelbarrow. According to one of these men, my saguaro weighed at least three hundred pounds.
After the planting, the workers applied sulfur powder to the saguaro's wounds. They advised me to do the same every day until healing had completed. They watered the root area and splashed water on the tall stem. Then they left, wishing me luck.
A few months later, the transplant seemed a success. The saguaro retained its roundness and color. I'd feared it might sag and slowly implode, rotting from the inside out. Every few days, I applied sulfur into and around its wounds. The plant held on, and I was proud of it. It looked handsome in its new location, and while no longer providing the wonderful curb appeal it had in the front yard, it was a definite addition to our backyard garden.
Unexpectedly, my husband and I had to go out of town for several months. The morning after we got home, I looked out the kitchen window as usual, glancing first at the saguaro. It was still standing tall, but suddenly I realized it looked very thin. It was also listing slightly to the left. "Oh, no," I muttered. Feeling heartsick, I went outside to view my patient. Indeed, it was in trouble. On the stem, there were insects crawling in and out of the puncture wounds, which had never completely grown over. At its base, there were several exposed roots where burrowing insects, perhaps even rodents, had dug underneath. A close examination revealed the shrinkage the cactus had endured. I now believed it was dying. Nevertheless, I wasn't going to give up. Another application of sulfur was in order, plant food around its base, and a shoring up of its roots with rich potting soil. I called the nursery and asked what else I could do to preserve the creature. At that, the nursery's owner actually came to our house and inspected the saguaro, then looked at me solemnly. "It's dying slowly," he said. "But I can plant you another one in front if you like. I'll give you a good price. Two hundred fifty for a four-footer." I told him I would think about it.
Months passed; the creature hadn't changed much, except for its color, which seemed paler. Its spines weren't as sharp as before. They had lost their sting. "You're on your own now," I told the saguaro. "It's up to you and nature."
In June of 2009, seven months after its ordeal, my saguaro flowered. The plant had never so much as offered a bloom in the eighty years it had lived prior to its near butchery. Under cover of darkness, insane vandals had taken out their rage on an ancient being and left it for dead. What could possibly have brought about this miraculous flowering in a body so broken, so hurt?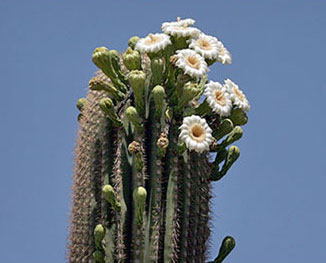 Another year later, it was still alive. It looked about the same as the previous year, but even thinner. Yet, once again, in June it generated flowers. Again, I wondered why. Could it be that when it received that terrible injury, all the universal life forces within it, perhaps sensing the mortal blow, summoned the strength to flower, to offer pollen to the birds, the bees and the winds? My noble saguaro would not relinquish life easily.
I've heard it said that when a person is dying, sometimes in the last few days before death, he or she rallies, gains strength, seems to be getting well. The recovery may last for a week, even longer, but soon the body fails and death occurs. I thought it was like that with my proud saguaro. In a final burst of energy, it reached for its last chance to reproduce, to attain its own immortality.
Included herein is one of the photos I took of the saguaro's flowers. I wanted to preserve the beauty of their delicate white petals to remind me of my courageous cactus. During its two brief seasons of flowering, I witnessed birds hovering above the blooms, long-beaked humming birds drinking the nectar, bees landing on the petals, nestling in the yellow tunnels. I had no doubt my saguaro was rallying.
In December 2010, my husband and I took a trip to Nevada to visit family at Christmas. We left for home a few days later, but didn't get back until after dark. The next morning, I opened the kitchen blinds and gazed out the window. The first thing I saw was the saguaro lying on the ground, entirely uprooted. Its wounds had reopened; its flesh was gutted and gnarled. Nothing could be done, except mourn.
Copyrights
Suzanne Cisneros
2015
Do read her powerful book CHIAPAS RISING