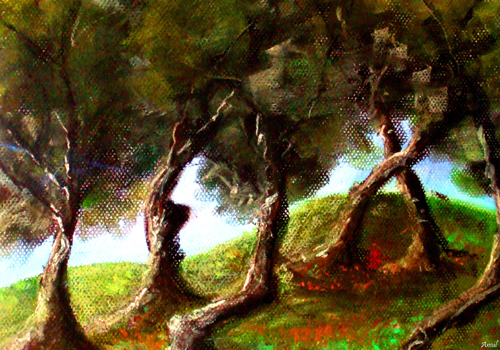 Visions strolled with the mists of truth. Slow languid steps of an afternoon were left far behind as visions glided effortlessly into the mindscapes of the Mouse. He envisioned a Green Garbed Philosopher, surrounded by creatures great and small. All paying homage and bowing down in reverence to this peaceful giant. The Philosopher spoke a mysterious dialect that very few could decipher. The Mouse overheard the daises and brook, whispering of a secret pilgrimage that had been taking place since primeval times. An ancient journey that all must take. It happened like clockwork; like the switching on of a migrational gene. Ingrained within the very core of existence, dormant; patiently waiting, innately knowing when to release itself. It was a mass movement of a thousand species across all lands. They all had one thing in common- the search for knowledge, perhaps even enlightenment. Many speak of this spiritual migration, but none can provide solid answers as to the nature of it. In shadowy corners of the Forest, there are rock drawings, carefully etched, intentionally detailed, depicting this unusual event. Common elements observed in these cryptograms were gargantuan green objects, glowing with an eerie intensity. The Fae – folk believe them to be the Green Garbed Philosophers – the Trees – primal forces holding time in their lap as a pocket of energy, unchanged and undivided.
Often, instinct swims the sea of consciousness, trying to reach the island of ' sense ' , which is inhabited by ' action ' , but how often it is left unchallenged. We choose to drown rather than swim, only because it is easier.
The Mouse overheard these whispery secrets and was mystified.
But alas ! The Mouse remained trapped in the chamber of ambition. Dreaming of steel and bricks and cityscapes! The Mouse, blinded by ambition, neglected the tiny voice within.
He chose to drown rather than swim, hence the island of ' sense ' was left undiscovered.
Rising up slowly but surely, like a prehistoric phantom waking from slumber, a thick fog swallowed the deepest parts of the Forest – shrouding the secrets, the whispers and the rock drawings with a luminescent darkness.
The Mouse, burning with ambition, continued his journey to the City.
Excerpt from a 'A Different Kind of Garden ' by Ansul Noor