How easily we communicate our thoughts through writing or art. We just pick up a pen or a brush and we are on our way.
What about the days when the human race could not write or paint?
***
Clouds billowed above me and the skies were tinted a purplish blue as winds picked up from the North – it seemed like a brittle wintery wind from New Mexico was sweeping over the Northern Arizona landscape. The mountains and rivers beckoned and enticed me. The air wore the scent of an approaching storm. The landscape blossomed and gleamed. Despite the warnings, I headed out to seek magic, because one never knows what marvels lay in wait for those who seek.
I put on my hiking shoes and loaded my knapsack with goodies and water. I was ready to brave the unknown. It was a good one hour drive from my place to the Petroglyph Heritage site in Sedona, Arizona. I had heard of this mysterious place from friends who were members of the local archaeological society.
Sedona is a rugged ancient city that is circled by giant Red Rocks (sandstone and limestone) that are rich in iron deposits. You can always expect the unexpected in this sleepy little Western city that is tucked away in the far corner of Northern Arizona. Hundreds of secret canyons, unexplored trails, desert forests and caves form the heart of this strange and mystical city which is also a haven for New Agers, Peace Seekers and Mystics. It's interesting how the Cedar and Mesquite trees gravitate towards the Vortex hot spots of the Red Rocks; the trunks are twisted and gnarled as if struck by some unseen force. Locals say that the powerful Vortexes are the reason why the tree trunks are twisted in such a bizarre fashion. There is much speculation about the so called Vortexes of Sedona. It is indeed one of the most beautiful places in the world mainly because of its untouched, unique and diverse landscape. They say that a Vortex can be felt and never seen. Many theories and legends surround the mystery of the Vortexes. The most accepted theory is that a Vortex is a circling of spiritual energy that radiates from the core of the earth itself. There is a masculine and feminine component to the energy that reflects the masculine and feminine sides of human existence. The energy is said to have different effects on different people. Every experience is unique, which is what lends this place an enchanting Camelot-like feel. There is vibrational stillness to this place. When you stand in a hot spot you will know it. There is ultimate tranquillity. The shape-changing vistas might startle you at first. The Red Rocks seem to change many times a day. They never look the same. They are alive. They all have faces. It is an incredibly humbling experience. As a friend of mine once said, "Here, I and the Raven become one."
Here in the pristine solitude of Nature you will be reborn.
And so I arrived at the V-Bar-V, Petroglyph site in Sedona.
I was speechless. Tall ancient trees, dark clouds looming above and winding paths leading to nowhere. I started the hike by emptying my mind of all thoughts thus allowing the spirit guides to show me the way.
I was now walking with the spirit guides of the Hopi and Sinagua tribes that inhabited this area thousands of years ago. I felt unusually energized and joyful – like I was going home. Strange. There was a sense of wild abandon as you hiked this ancient trail. I felt rejuvenated. As me and a few other fellow hikers climbed towards a steadily narrowing path the trees canopied above us and a gentle stream gave us company.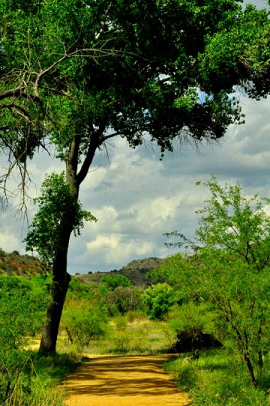 After about an hour of moderate level hiking we arrived at a dead end – abruptly.
There in full view were layers of red rock, angularly cut, hidden deep within the canopy of trees. For a few moments we just stood there – mesmerized. The rich golden-red-ochre colors against the canvas of green was like we were all standing in a living breathing painting. The surreal landscape was painted by an invisible hand. But, the real journey had just begun.
At first I thought it was an extension of Red Rock country, until you peered closely. In a few moments the initial surprise was tamed by curiosity. Slowly but surely I saw it. An ancient canvas of rock. Shapes, figures and symbols started dancing around me and after a while I was encircled by a symphony of symbols. I was here. This was it. This was the site where the ancients painted their dreams onto the natural canvas. I took out my camera and started clicking away, trying my best to capture every bit of this natural wonder. After the first few clicks, I realized that I should stop and pay homage to these ancient artists who had taken great pains to record their lives for us to see. It is then that the symbols started to talk. Every inch of this rock canvas had a story to tell and every story was nothing like the other. They were almost one thousand petroglyphs divided onto thirteen rock panels (almost like chapters of a book).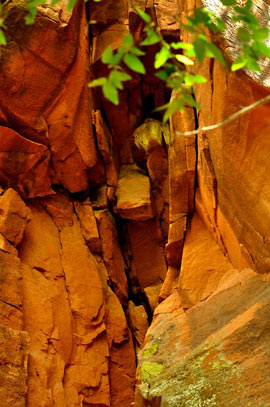 It became clear that the ancient tribes that dwelled here were 'dry farmers' and 'gatherers'. Geometric symbols were a dominant part of the pictographs and petroglyphs. One could almost envision an ancient irrigation system of some sort that connected a river source to the rest of the farmland. Ploughs, fork like objects were another prominent feature, indicating the existence of farming practices.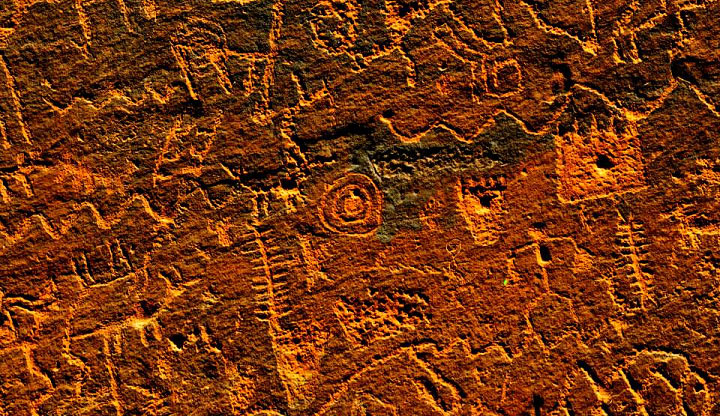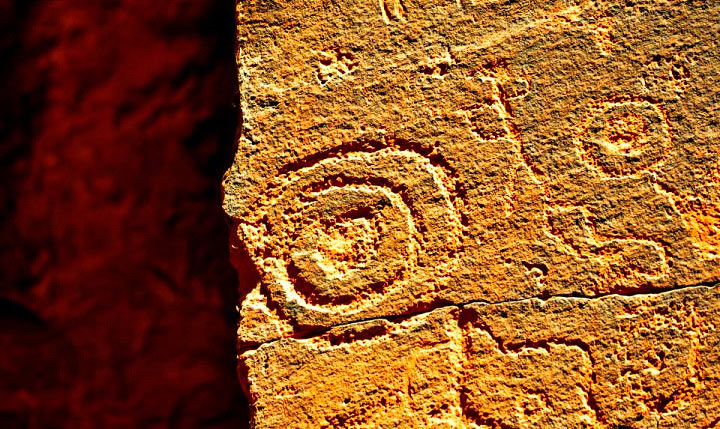 I then noticed a whorl-like symbol that either could be indicative of a Vortex or as many experts say, it is the representation of the Winter Solstice, an important event in the lives of these peoples who depended on the crops for sustenance.
Another interesting feature of these petroglyphs was the abundance of animal symbols. In every rock chapter I noticed figures of coyotes, deer, antelope, rabbits, lizards, snakes, mountain lions and other wildlife scattered in or around the geometric motifs. Yellow-ochre, sky-blue and deep brown pigments had been used to accentuate certain features, whilst other drawings were simply chiselled into the rock using specific implements.
Rock drawings can be found in various sites all over the globe – perhaps your region has one?
This was their life story that they painstakingly wrote for us to see. This was the book of their life and these symbols were their letters through which they could mark important events and record history as they knew it. This was a story 'before' writing and every word was a powerful reminder that the human race is a creative one that itches to tell their tale.
Every story is worthy of respect and every story is worthy of being told. One does not have to be an expert, or a bestselling author or a celebrated painter, all one needs is a burning passion and the deep desire to tell a story.
Pictographs and petroglyphs are considered primitive forms of art, but to me they hold profound messages from a race of people who lived purely, bravely and truly. They respected Mother Earth, ate from the bounty provided, were not greedy and listened to their inner voices. They were the original storytellers who pined to tell their tales even if it be in the form of rock drawings. They saw magic in everyday life. To me, this 'rock' book was a bestseller.
I learned so much in just those few hours. The ancient ones unknowingly inspired me forever.
What story will this generation of humans leave behind?