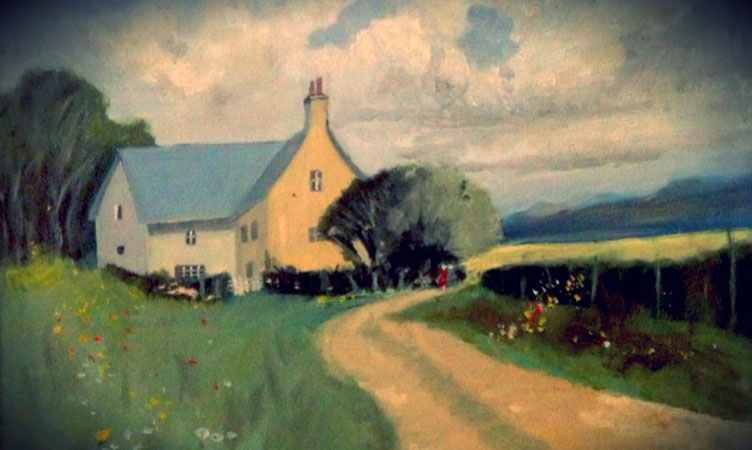 There was a house on a hill with no name. It stood not far from a road that many walked but never saw the narrow path that lead to it, because the path was covered with Nettles, Poison Ivy and many other nameless dangers. Therefore no one dared cross the path and hence, no one came to know of the house that lay abandoned for ages.
One day a crippled, starving and destitute man in tattered clothes, with scars of a painful past staining his countenance, came upon the road not far from the house on a hill with no name.
He soon saw the path.
He thought for a while and walked across. His feet, legs and crippled body bled till the ground below was crimson. He saw this blood, felt the stinging reality of fate, yet smiled; thanked Him and walked on.
After walking on this unknown path, he soon came upon a wild dog. The dog pranced upon him and bit his leg. The man bled more; thanked Him and walked on.
After a little while he saw a fast and rapid river. He crossed the river. Leeches clung to his body, suffering insurmountably; he thanked Him and walked on.
Later he saw that the ground below was crawling with red ants that were eating at his wounds. He wept; thanked Him and walked on.
He saw a house in the distance. But the house was surrounded by a pack of wolves. They were getting ready to advance on his wounded form. While they were coming towards him, he looked up to the sky and said…"My Friend, my Creator, my only Protector; You have given me this gift of life and now that I face death, I feel as if death will be Your welcoming hands blessing me with eternity". When he said this prayer in his heart…the wolves stopped in their tracks.
The fiercest of the wolves came up to him and started licking the wounds on his body. Once he was cleansed, the wolves left him alone and went away into the woods.
As he walked towards the doorstep of the house, he felt a gentle lulling breeze healing his pain, touching his eyes, easing the thoughts. He fell asleep at the doorstep of the house. A long blissful sleep that he had never experienced before.
He woke up to find that he was wearing freshly scented new clothes, was sitting on a soft velvet couch, eating the most delectable food, sipping sweet nectar from goblets of gold while rivers of milk flowed nearby and birds sang notes of joy.
Magnificent trees glittered with delicious mangoes and exotic fruits.
A dream-like peace overcame his senses.
In the corner behind a tree, he saw a child with torn clothes who was dying from hunger. He gave away all his food and clothes to him and said " Oh Almighty, Most Gracious, Most Merciful, I thank you for giving me sight so I could see this child who is hungry and without clothes, so I may feed and clothe him".
God sent this man to heaven.
The path he walked was the test of life. The child he fed was a vision of all his good deeds and his unfathomable courage, so that the gates of heaven could finally reveal themselves.
This life is a short walk towards our real Home.
SoulFire
2005